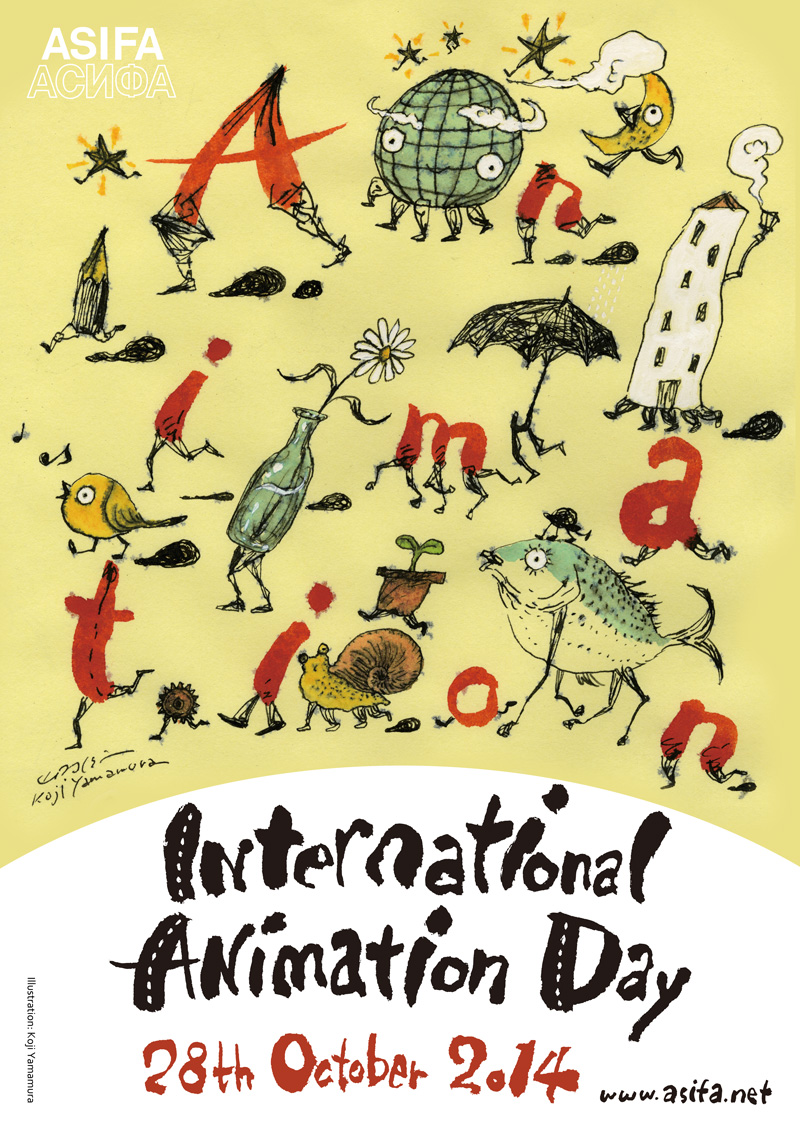 13th IAD Activity Summaries
ASIFA-China decided to hold this year's IAD celebration in Shi jing shan Science and Technology Museum at their invitation. In this way,we can further promote the IAD spirit and objective,and celebrate it with many animators and animation enthusiasts.
Short Film Premiere for Animation Workshop Group also started at the same time .It is an important part of the AWG activity organized by ASIFA-CHINA. Students from famous primary and secondary schools of Shi jing shan District of Beijing took part in this activity.
Meeting Hall
Time: 28th October
Place: Meeting Hall of Shi jing shan Science and Technology Museum of Shi jing shan District in Beijing.
Activity 1:ASIFA-China website Press event
ASIFA-China website is the communication platform provided for ASIFA-China members, animators and animation enthusiasts.There is latest animation news,ASIFA-China activities ,animation festival information from all over the world,and ASIFA-China member service on the website.People could know animation development situation, ASIFA , ASIFA-AWG and many interesting activities organized by ASIFA and ASIFA-China from the website.We choose this day to tell everyone the website is on line because it is a good news for all ASIFA-China members and the animators.ASIFA-China will try to provide the most professional service for everyone.
Activity 2:ASIFA Introduction
ASIFA-China president Mr Johnchill Lee make a speech to introduce ASIFA and ASIFA-China at guests' invitation.He also introduced the origin of the IAD activities and related situation.Many guests expressed great interest of association and give us valuable suggestions.They hope they could join in ASIFA-China ,and communicate with each other related to the animation production and development direction.
ASIFA-China president Mr Johnchill
Activity 3: Animation Forum
ASIFA-CHINA invited famous animation educator,animation professional, director, animation company CEO from China and abroad to make a speech during the activity.We chose several topics people concerned about ,made them a clue from company demand,university learning to how to make animation as a director.
Demand for Talents of Animation company
China Film Group Animation Company
Jun Huang
Animation Education in New Direction
Beijing Film Academy Animation institute president
Jianping Lee
Non Verbal communication
ASIFA-Hollywood Member ,Juror of 2014 Xiamen Animation Festival
Manuel Almela
Animation Education in new direction
CCTV Animation Director
Zilan Yang
Activity 4:Celebration
In order to celebrate this festival, we invited guests to open color bar together.They said that it is a free and equal platform for every animators to share their information and communicate with each other.
Activity 5:AWG Premiere
AWG-China activities organized by ASIFA-CHINA made a breakthrough this year. After holding many activities successfully supported by local science and technology commission,many schools contact with ASIFA-China, hoping us to teach their students making animations.We hope to show these wonderful student animations to everyone to show their fantastic creation.Student director delegate share their creation progress to guests and show their short films.
Student delegate1 Student delegate2
Screening Hall
Time : October 28th
Place: science and technology museum in Shi jing shan district of Beijing.
Activity: 6 Theme Screening Activities
One:Poland O!Pla Festival Animation Show
Two:Foreign Student Animation Film Show
Three:Cyber Sousa China Animation Short Film Show
Four:ASIFA chapter exchange Animation Film Show
Five:Cyber Sousa Award-winning Student Animation Film Show
Six:ASIFA 50th year Animation Show
ASIFA-China prepared six theme screening activities for the demand of animators and animation enthusiast this year.People could enjoy excellent animation films from China and abroad for one time.We received ASIFA-atlanta exchange animation films and Poland O'Pla Animation Festival animation films this year.People like them very much.They are so happy that they could see the films.
Summary:We held a series of celebration activities in Beijing.We honored to invite famous animators from China and abroad to make a speech during the festival.We celebrated our festival with more animation industry colleagues from all over the world .We played the communication animation sections from ASIFA-atlanta and propaganda films of Poland animation festivals in the screening hall. We try to let more people know about ASIFA, IAD, and many other foreign animation festivals.
With the development of our association, our work has far more than usual. It puts forward higher require to us. We must consider the questions seriously:How to enlarge the influence of ASIFA - CHINA,how to continue to organize activities, let the activities have a qualitative leap.
In addition, with the broad penetration and the maturity of AWG activities, it is a big problem that how to keep the students continue to be interested in the animation. We provide students a screening place to show their works ,they are so happy ,and also realize more problems of their works.We also show their work on the ASIFA-China website to let more people could see their works.We hope we could organize the youth animation festival for them one day. Of course, curriculum is a top priority. We will try to improve the curriculum system. This is the foundation of sustainable development.
All in all, two different activities are important to us. It will become valuable experience and motivation in our future work, and provide help to the development of our association .
ASIFA-China